Bintang Emon Drug Use Accusations Emerge After Uploading Video Criticizing Novel Baswedan Case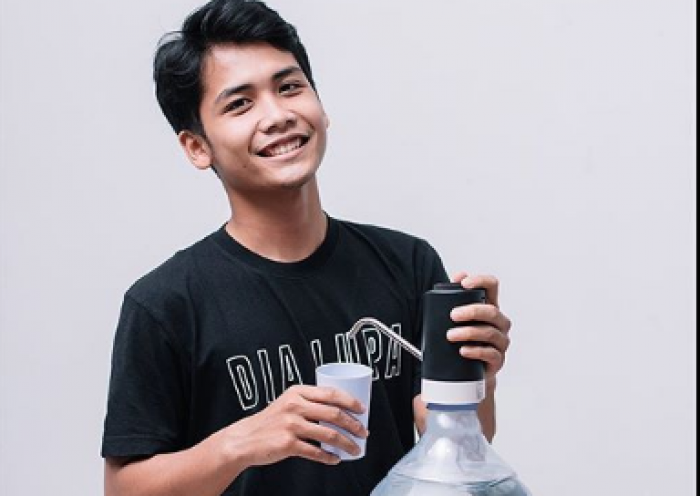 A picture of Bintang Emon from his Instagram page.
Cyberthreat.id - Shortly after uploading a video criticizing the outcome of the Novel Baswedan case, comedian Bintang Emon received accusations of being a drug user and subsequently put his account on private.
Accessed on Monday morning, "Bintang Emon" became a trending topic with more that 11 thousand tweets talking about the comedian.
At least three accounts brought up the issue and accused Emon of being a drug user; @ Tiara61636212, @ LintangHanita, and @ LiarAngsa.
"Bro Emon is getting nervous, afraid of getting urine tested by the authorities. Don't use meth if u wanna get high… your future is on the line," wrote those three accounts word for word, paired with a photoshopped picture of Bintang Emon guzzling white powder and a text that reads "Exposed Bintang Emon Addicted to Meth."
Cyberthreat.id's investigation found that those three twitter accounts were created to post the exact same tweets. Some other tweets cornered KPK Investigator Novel Baswedan, while others cornered Jakarta Governor Anies Baswedan.
But most Twitter users are not buying the accusations, and called the three accounts out for being buzzers or bots designed to shephard public opinion to believe that Bintang is a meth user.
"Seeing Bintang Emon on the trending page is kind of sad, I'm reminded of that time we made a video together. I offered that kid some food and drinks with a little kick, but he still chose water.
He's simple, down-to-earth, and chill. He doesn't even smoke, and now he's being accused of being a meth head," writes @ Injotid on Twitter.
A few accounts reposted Bintang's video before going private themselves.
"Ahahahay some naughty folks are trying to get into my work email, my sibling's email, and manager's email. But it's all good, kaleumm [chill]" writes Bintang on Twitter.
Other accounts were lamenting the attack on Bintang saying it is an attempt to silence free speech.
"Do not ever prevent a young man who aspires to fight for the nation and country by saying the right thing is still right, the wrong is still wrong. Keep on voicing justice, Bintang Emon, we are fighting the wrongdoers together," writes @ syech_erwanto.
Novel Baswedan Reaction
Novel Baswedan himself said he had seen Bintang's video. In the video Bintang mocked the one year sentence of the perpetrator for throwing acid at Novel's face, which blinded him in one eye.
"I've seen it [the video], the one with the 'hand stand' right? The one where he said they were helping satan? Ha-ha-ha," said Novel as quoted from Tempo.co on Saturday, June 13.
"That kid knows how to do it, ha-ha," said Novel whilst laughing.
---